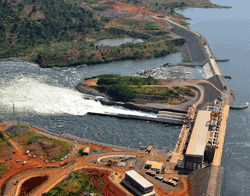 Justin Schwartz
Senior Vice President, Development
Project Manager: Bujagali
Mr. Schwartz is Senior Vice President, Development for Sithe Global and leads the firm's development activities in Sub-Saharan Africa. In addition, Mr. Schwartz is the Project Manager for the 250 MW Bujagali Hydropower Project in Uganda.
Mr. Schwartz has over 10 years of investment and economic development experience throughout Sub-Saharan Africa. Prior to joining Sithe Global, Mr. Schwartz was a Financial & Private Sector Development Specialist for the Africa Region at the World Bank. Previously, he served as a Political Officer for the U.S. State Department at the U.S. Mission to the UN in Geneva and in New York, and worked as an Associate in the Special Situations Group at investment firm Fulcrum Global Partners.
Mr. Schwartz holds a MIA in economic development from Columbia University and a BA from the University of Michigan.