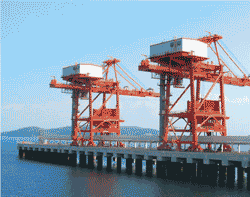 600+ MW
Bataan Peninsula, island of Luzon, Philippines
Providing jobs and substantial economic stimulus to a developing economy
Mariveles Station
Mariveles Station is a 600+ MW power station on the Bataan Peninsula, on the island of Luzon in the Philippines. Financial closing occurred in January 2010 with Chinese and Philippine entities providing debt. The Engineering, Procurement and Construction counterparty was CNEEC (China).
The Luzon power market ranks as one of the most attractive in Asia. Its regulatory framework is investor-friendly and transparent, and low current per capita electricity consumption combined with robust economic growth should ensure moderate to high demand growth. There is ongoing privatization of state-owned portfolio of generation and transmission assets. Mariveles Station has the lowest marginal operating cost of any coal project on the grid and it provides significant benefits to the local community by reducing electricity costs, as well as providing jobs and substantial economic stimulus.
Mariveles Station consists of two identical 300+ MW power blocks using proven Pulverized Coal Combustion technology. It has been designed to meet the more restrictive of Philippine and World Bank emissions standards while selling power to offtakers under long-term power purchase agreements, as well as into the Philippine Wholesale Electricity Spot Market. Coal is sourced under a long-term offtake agreement with an Indonesian supplier.
In December 2016, an affiliate of Aboitiz Corporation completed a purchase of Sithe Global's interest in Dinginin Station. Interests are also held by affiliates of Ayala Corporation and GNPower.