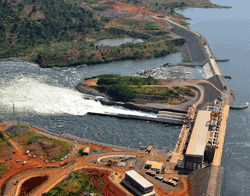 James McGowan
Senior Vice President, Development
Project Manager: Bujagali
Mr. McGowan joined Sithe Global in 2004 as Senior Vice President, Development. Mr. McGowan has over twenty-five years in the energy sector including twenty years developing power projects worldwide.
Prior to Sithe Global, Mr. McGowan spent fifteen years with Sithe Energies as a Senior Vice President where his responsibilities included the worldwide development of greenfield and brownfield projects, asset optimization and asset valuation. While at Sithe, Mr. McGowan successfully developed over 5,000 MW of projects in the US, Canada, South America and Asia and played a key role in Sithe Energies' acquisition of assets from Boston Edison and General Public Utilities.
Mr. McGowan's developments include the 250 Bujagali Hydro project in Uganda, the Mystic (1,000 MW) and Fore River (800 MW) Stations in Boston, the Independence Station (1,000 MW) in New York, the Cardinal Station (150 MW) in Ontario, the Samutprakarn and Nong Khae Stations (300 MW) in Thailand, the Smithfield Station (200 MW) in Australia, and the Batavia and Sterling facilities (110 MW) in New York.
Mr. McGowan started his career as a marine engineer with the US Merchant Marine. He then served as a research scientist for New York University, and as Vice President Operations and Engineering for Cogenic Energy Systems prior to joining Sithe. Mr. McGowan is a licensed Marine Engineer. He holds a Master of Science from New York University and a Bachelor of Science - Marine Engineering from the United States Merchant Marine Academy.