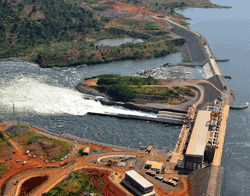 Glenn Gaydar
Vice President
Project Director: Bujagali
Mr. Gaydar joined Sithe Global in 2007 to undertake the position of Project Director for the Bujagali Hydropower Project in Uganda. Mr Gaydar has over 35 years experience in development, design and construction of large infra-structure projects with a majority of the experience in hydropower projects located in over 25 countries worldwide including work with feasibility studies through plant operation and maintenance.
Prior to joining Sithe Global, Mr. Gaydar was the Chief Hydro Engineer and O&M Hydro Manager for Sithe Energies (16 years) during which time he was involved in all aspects of 10 hydropower projects owned and operated by Sithe. In 1998, he assumed the role as Managing Director for Sithe Philippines, a new corporate office located in Manila established for the purpose of advancing new hydropower developments in the Asian Rim and to provide technical oversight for the 345 MW San Roque Hydropower Project that was under construction between 1998 and 2003.
Following the completion of San Roque, Mr. Gaydar joined Global Alumina as the Infrastructure Manager responsible for the design and pre-construction of a major port facility and roads, railroads, bridges and dams required for a new alumina refinery project located in Guinea.
Other prior employment was with TAMS Consultants specializing in hydropower projects (11 years) and Daniel Construction Company (3 years). Mr. Gaydar is a Professional Engineer in the State of New York and has a BS degree in Mechanical Engineering and a Masters degree in Water Resources (Civil Engineering).