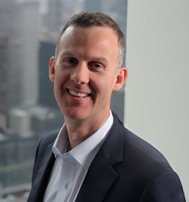 Executive Management
Brian H. Kubeck
CEO and President
Mr. Kubeck has over 20 years of experience in the energy and industrial sectors, with focus on projects in both developed and developing markets at every stage of project life cycle, from early development and financing to operations and ultimate exit. He was a founding member of Sithe Global in 2004 and has had active involvement in nearly all Sithe Global projects. Highlights include the $1.1 billion, 875MW Goreway Station in Ontario; a 2 GW portfolio of operating, in-construction and development stage projects in The Philippines; and the largest public-private hydropower project in Africa (the $900mm Bujagali project in Uganda).
Before Sithe Global, Mr. Kubeck was a member of the Herakles Capital team that launched the Guinea Alumina Company refinery project in West Africa. At Sithe Energies (the predecessor to Sithe Global) he co-led the development and financing of the $1.2 billion San Roque hydroelectric project in The Philippines. Prior to that, he worked in the Energy Group at Toronto-Dominion Securities Inc in New York City.
We believe that cost-effective electricity, fuel source diversification and environmental
stewardship are all key elements of a socially responsible international energy company.