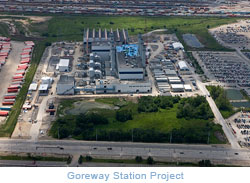 Duane Cramer
Senior Vice President, Development
Project Manager: Goreway
Mr. Cramer is Senior Vice President, Development for Sithe Global and is responsible for the company's development of the 875 MW natural gas fired Goreway Station in Brampton, Ontario. In conjunction with these development activities, Mr. Cramer has become actively engaged in the dialogue regarding provincial energy policy and in the evolution of Ontario's competitive electricity market.
Mr. Cramer has nearly 23 years of engineering, commercial and finance experience. Prior to joining Sithe Global in 2004, Mr. Cramer spearheaded Sithe Energies' efforts in Canada. In addition, Mr. Cramer spent four years working in Southeast Asia, during which time he successfully developed two 120 megawatt cogeneration projects in Thailand, in operation since early 1999. Previously he served as Project Manager with Commercial Union Capital Corporation and as Director, Asia-Pacific Project Development for Zurn Industries, Inc.
Mr. Cramer holds a B.S. in mechanical engineering from Syracuse University.